WORCESTER BOSCH LIFESTYLE BOILER IN SITU
We recently blogged about the unveiling of the new and unusual Worcester Bosch Greenstar Lifestyle boiler range. If you can't easily hide your heating system in a cupboard, this is great news for you as the Lifestyle range is designed to look good while retaining the usual Worcester Bosch durability and efficiency. In this article we are going to look at the details and technical specifications to decide if the new boiler is style over substance or a great balance between looks and performance.
From the perspective of economy, this is a good concept – although the Lifestyle doesn't look anything like the usual WB CDi Classic boiler, they have same mounting points and same pipe connections, so it is very easy to swap an older WB for the new design range.
One of the best selling points of this boiler is it improved reporting, servicing and maintenance factors. Mainly thanks to the new electronic board and full-colour large-size LCD display, you're no longer given confusing boiler error codes.
Instead you get text-based information that helps you make decision as to what's wrong with the boiler should it ever develop a fault. This might save you a lot of money because it's estimated that at least 20% of maintenance callouts for emergency plumbers are minor faults that could've been dealt by the customer. We needn't be telling you how expensive emergency callouts are – we're all been there.
In essence, the new Greenstar 8000 Lifestyle range consists of two separate boilers – Life (white shell and available in combi, system and regular versions) and Style (black shell with an advanced LCD display and available in combi or system variants).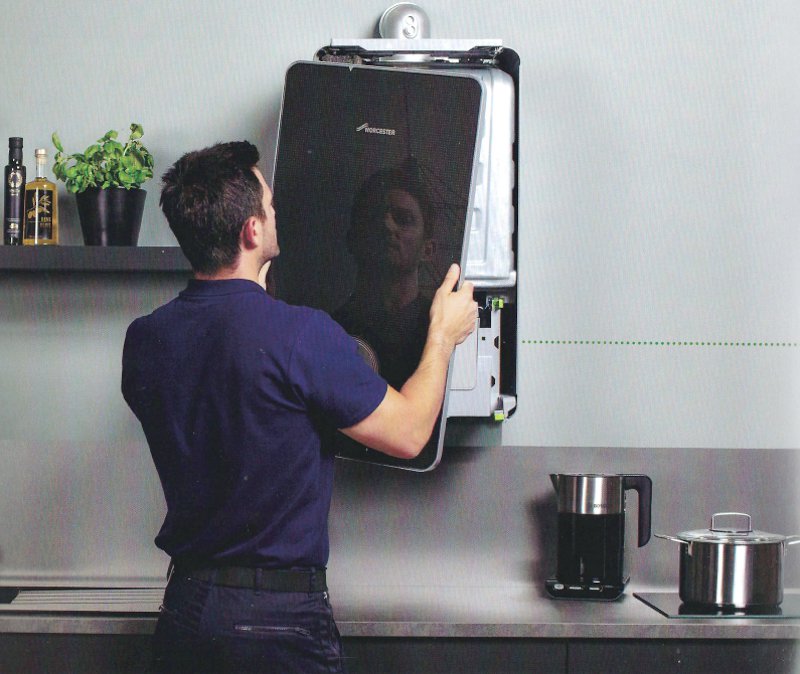 WHAT'S SO SPECIAL ABOUT GREENSTAR LIFESTYLE BOILERS?
More power for the same money – now outputs go up to 50kW both for combi boiler and regular one.
Comes with complete wireless connectivity ensuring an easy communication with your smart thermostat.
Condensate trap access clearly labelled and accessible from the front. Drain out your condensate without the hassle of connecting a hose.
Advanced flue system permitting even longer flues – up to 17 metres, which makes it possible to install Worcester Bosch Greenstar Lifestyle boilers in the middle of the property, far from the outside walls.
Superb design and visual presentation. Not only the boiler itself is great-looking, even the flue matches the bill – no more clunky white flues. The Lifestyle boiler comes with a silver-effect flue.
Improved combustion chamber, which, incidentally is also looking neat and professional. But it's not only for appearances sake. The new combustion chamber cover is what helps reduce the boiler noise.
Both digital and manual pressure gauges provided. The high quality pressure sensor makes sure the gauge shows accurate results.
Comfortable service access, which installers and service plumbers will surely appreciate.
Full-colour text-lead LED display for simple operation (the Style version).
Same pipe connections and fixtures as the Worcested Bosch CDi Classic range for an easy swap.