What Size Boiler Do I Need For My House?
Choosing a new boiler with optimal Kw output will make your home cosy and help you save money off your energy bills.
15% OFF Boiler Sale Now On
Online Quote in 30 Seconds
2 Years 0% Finance
What Boiler Do I Need
The Kilowatt output of your new boiler depends on the size of your house and your usage habits. There is no "fit-for-all" recipe when it comes to choosing the right output, however, this simple boiler guide will give you a good idea. Most mainstream domestic boilers come in outputs including 24kW, 27kW, 28kW, 34kW, however a 40kW boiler or even a 42kW boiler is an option for larger houses with bigger demands.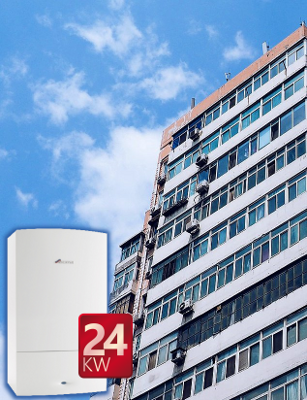 Most flats, apartments and small terraced houses with just one bathroom and the number of radiators ranging from one to 8 will find that choosing a 24kW boiler is usually good enough, however it will depend on circumstances.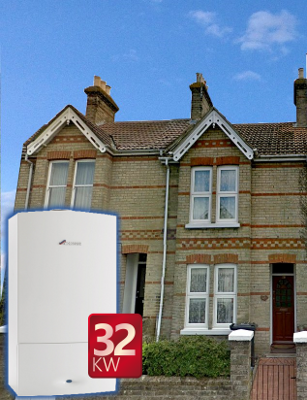 What boiler do you need for a 2 bed house? If the number of radiators isn't higher than 14 and you have no more than two bathrooms, you will be expected to make a choice between a 28kW and a 32kW boiler.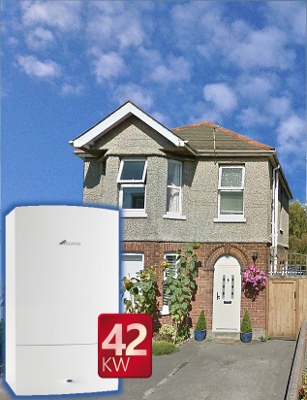 Larger detached houses with 3 or more bedrooms having two bathrooms and less than 18 radiators will have to look at some of the bigger-output gas boilers. We're probably looking at up to 42kW output for larger properties.
Can A Boiler Be Too Big For My House
Essentially yes. Decision on what size boiler to install should be based on two main considerations – heating demand and mains water flow rate. Since there is so much confusion surrounding the latter, we think it's important to look at flow rate into more detail. Boiler manufacturers often use hot water flow rate as a marketing message to convince the consumer to choose their boiler based on a better flow rate. If a company advertises a new boiler that can supply a 14 litres per minute, don't automatically jump to the offer before considering if your mains supply can support this.
You will need a qualified plumber or heating engineer to measure this, but it is relatively easy to find your cold water static pressure and dynamic pressure, as well as its incoming flow rate.
If your incoming flow rate is just 9 litres per minute, buying a new boiler with 14lpm flow rate will still yield a meagre 9lpm hot water. And this is not because the boiler manufacturer had lied – it's purely because your mains supply cannot provide more.
If you're happy with your current flow rate, you don't need to do anything. You can simply save money on boiler installation by choosing a model that is rated at 9lpm. However, if you think this is not enough, you will either need to upgrade your incoming water supply or buy additional equipment to slightly boost your existing supply.
Installing an accumulator vessel may provide a slight improvement. A typical 60-litre accumulation vessel will cost slightly over £120 plus installation costs and it may boost your water pressure to 3 -4bar enabling you to choose a bigger size boiler for your house.
On the other hand, if your incoming water supply is weak, this step may not provide enough of a boost to justify the extra spend.
Depending on where you live, you can apply with your water supplier to get the incoming pipe upgraded. Typical older style houses will have a 1/2″ pipe feeding the water system and this is what is limiting your flow rate to approximately 9lpm or even lower if the pipework is old. Even a modern combi boiler will struggle with that supply. If you're dreaming about installing a hot tub, a garden fountain or even a small swimming pool in your garden, there's no way this old pipework is going to be able to supply it.
In this case an official pipework upgrade is the only option. It is not as expensive as it may sound. Your water supplier may upgrade you for as little as £1,000 depending on your property's distance from the mainline. That's good news. What may not be as much of good news is that not every property will qualify for an upgrade. Improving the water feed will not help you if your area is not geared up to support an increased pressure. Two most widespread reason why your application may be turned down is
Your area has a mains pressure management scheme
Your property is too elevated and there's not enough power to deliver more water so high above the sea level
Either way, if you're looking at the more expensive end of the boiler market, your first port of call should be your water supplier to help you determine viability of the water system upgrade.
How Much Heat Does My House Need?
With the topic of water pressure clarified, let's proceed to looking at your heating demand. Although the British weather is a rather constant occurrence, a recent study suggests that the spread in residential energy consumption is massive – between 5,000 kWh and 25,000kWh. With such loose guidelines, how do you know what size boiler to choose?
We'd like to provide a generalised estimation based on average figures, however, please note that the actual heat required will depend on multiple factors such as
Insulation of the house
Solar position (North – South)
Building materials used
Ceiling height
Personal circumstances etc
Is Your Boiler Costing You Money?
Getting the right size boiler is crucial for various reasons. Installing something that is too powerful is going to cost you extra money without providing extra comfort. Although we collect initial data about your house and hot water usage during the online quote, when it comes to booking a free surveyor visit, you will get a more accurate appraisal of the situation and he will confidently answer the age-old question of what boiler do i need for my size house?
How is it different from the pushy salesmen visits carried out by some of the larger installers? We won't try to upsell you to services and products that you don't need. Once you're given a price by the surveyor, that's the boiler installation price you're going to pay. There are no hidden charges and we stick to our price promise guarantee. Also, we are so confident in our services that we are happy to beat any like-for-like quote.
The key to choosing the right boiler is figuring out your specific circumstances. The number of radiators in your property will play a major role in making the choice. We have to make sure the boiler installed can cope with the capacity of your radiators. Also an important factor is the hot water usage habits of your family, especially how many showers or taps you intend to run at the same time.#
Although most families will find that a combi boiler fits their lifestyle, there are cases that due to a high hot water demand we would have to advise a system boiler as a better alternative. Busy families that need to use two showers at the same time (think busy mornings and school runs) will find that a combi boiler can't offer enough output to keep everyone happy.
Installing a new boiler shouldn't break the bank either. Our finance packages start from as little as £9.99 per month, which means you could actually be saving money each month making your energy-efficient boiler pay for itself in form of lower heating bills.