New Boiler & New Boiler Cost
The boiler is an unsung hero. Working away in the background to provide us with hot water and heating at all times. When they get old however they seemingly falter at the worst possible times and it can become a strain both financially and mentally. New boilers are generally quite pricey too, especially when you include installation fees.
If you're in need of a new boiler it doesn't have to be painstakingly difficult to get your hands the perfect one for your home though. Through Glow Green, customers can find an efficient boiler at a fair price, with the option for small monthly payments, meaning boiler costs no longer have to be so off-putting. We have the best finance options on the market and offer up to 12 years warranty for complete peace of mind.
Here you can find the answers to any pressing questions you might have as well as any other relevant information when it comes to purchasing a new boiler. Firstly, let's start by getting the technical lingo out of the way.
Types Of Boiler & How To Tell Them Apart
Combi Boiler
A combi boiler which is short for combination boiler, is considered the most efficient heating system. Today it is also the most popular system among the new boiler installations. It's a compact system that provides both hot water and central heating directly through the boiler itself removing the need for bulky tanks and cylinders.
This boiler doesn't store hot water, so it is considered very efficient as it produces hot water on demand. It's got a fully-sealed system with a circulation pump built in, which is great news for those who look to save up space by getting rid of the old-school tanks and cylinders.
Unfortunately, nothing is perfect and a combi boiler comes with its limitations too. It won't be able to produce a steady flow through multiple taps and also having a bath and heating the home at the same time may be a bit of struggle. If you open a hot water tap while the heating is on, priority will be given to hot water.
Good news is that there is a wide range of outputs available depending on the size of your property and your predicted hot water demand. If you choose the right power output, you shouldn't have any problems.
Pros
No need for the expansion tank or hot water cylinder
Higher efficiency rate than comparable systems
Lower new boiler installation cost
Very compact, freeing up attic and cupboard space
Cons
Will struggle with high hot water demand and won't support flow through multiple taps
More costly to service (unless still under warranty)
Not compatible with alternative green energy systems
Additional cost if upgrading from a different type of boiler
Conventional Boiler
Depending on professional jargon used by a plumber, these will be known under a wide array of names, all of which are used to describe the same piece of equipment. Often called regular boilers, open vent or heat only – referring to the fact that they feed the central heating system while hot water is provided through a cylinder that stores heated water.
If you have an unsightly expansion tank in your attic and a large water cylinder covered in green foam insulation, you've got a conventional boiler.
Although often associated with outdated technology, there's nothing wrong with this heating system as long as the boiler itself has a high efficiency rating. The main advantage of the conventional system is that hot water is accessible from multiple taps at the same time. If you've used a combi boiler, you know that when you open a tap in the bathroom, there will be no hot water in the kitchen. It might turn out to be a nightmare for large families where fighting for the right to use hot water can put unnecessary stress on the morning routine. That's where the conventional boilers step in.
They heat up the hot water cylinder that is fed by the water tank sitting in the attic. The tank also has a way of topping up the system to make up for the water that is lost due to evaporation and what's more important – it keeps the system safe by allowing water to expand in case the system heats up too much.
An additional benefit of this configuration is that you can easily upgrade your system to multiple heat sources by replacing the cylinder to include an additional coil. You can read more about this scrolling down to our thermal solar water heating system section.
Pros
Enjoy hot water from multiple taps simultaneously
More reliable than other types
Compatible with advanced renewable energy heating systems
Cons
Will take up attic space and cupboard space to house the tank and the cylinder
The initial boiler installation costs are relatively higher
Less efficient due to heat loss from the cylinder
Sealed System Boiler
Or simply a system boiler is an advanced version of a conventional boiler. It works in a similar fashion by supplying the heating system directly and storing hot water in a cylinder, however, as it doesn't require a water tank to provide pressure. It is great for homes that require instant access to hot water from multiple taps. It's main benefit is that it frees up the space in your attic.
The expansion vessel and other bits are already integrated into the system boiler – it is a more advanced appliance. Another upside is that this type can be used with a domestic thermal solar water heating system. Scroll down for the environmental section to find out how much you can earn by joining the RHI scheme.
Nevertheless, this type of equipment also comes with its downsides, so if you can't see yourself installing solar heat collectors on your roof, and having hot water out of multiple taps isn't a priority, you might be better off choosing another type of new boiler.
Another downside is that both conventional and system options are limited by the volume of the cylinder. If you have a large family who want to use the bath frequently, you may find that the appliance doesn't quite keep up with the demand. Once a cylinder is emptied, you will have to wait for the next portion of water to be heated up.
Also, producing hot water on an assumption that it is going to be needed at some point soon is not a very green thing to do. Water will need to be stored in the cylinder and no matter how well insulated it is, there will be some heat loss. If this is a concern, you might need to choose a combi boiler instead.
Pros
Provides hot water from multiple taps instantly
More reliable than other systems
Compatible with thermal solar water heating systems etc.
No need for the expansion tank
Newer models come with a supplementary immersion heater producing hot water even when the boiler breaks down or loses gas supply
Cons
Will take up cupboard space to house the cylinder
The initial boiler installation costs are relatively higher
Less efficient due to heat loss from the cylinder
Condensing Boiler
Although technically a condensing boiler can't be considered a separate type of boiler, we feel it's worth a mention because it sometimes creates unnecessary confusion. Besides, some properties still have non-condensing boilers in operation making their owners pay an extortionate amount of money on energy bills.
A condensing boiler will generate more hot water from the same amount of gas making it a no-brainer. In fact, it is illegal in the UK to install a domestic non-condensing boiler. The only reason why we keep mentioning this variety is that older-style properties are likely to still have 20+ years old heating equipment installed, especially when it comes to some rental properties. Especially, as some landlords do strangely prefer to keep paying high maintenance costs instead of upgrading the heating system.
Condensing boilers come with a more sophisticated heat exchanger that is capable of converting latent heat from exhaust gases. Older type heating systems simply eject the gases without any additional treatment. These gases have accumulated valuable heat that can be converted back into usable heat by condensing hot water vapour back into its liquid state and feeding it back into the system.
This method allows you to reduce your carbon footprint, save a considerable amount of money on fuel bills and even do your bit to reduce global warming by reducing the amount of excess heat released into the environment.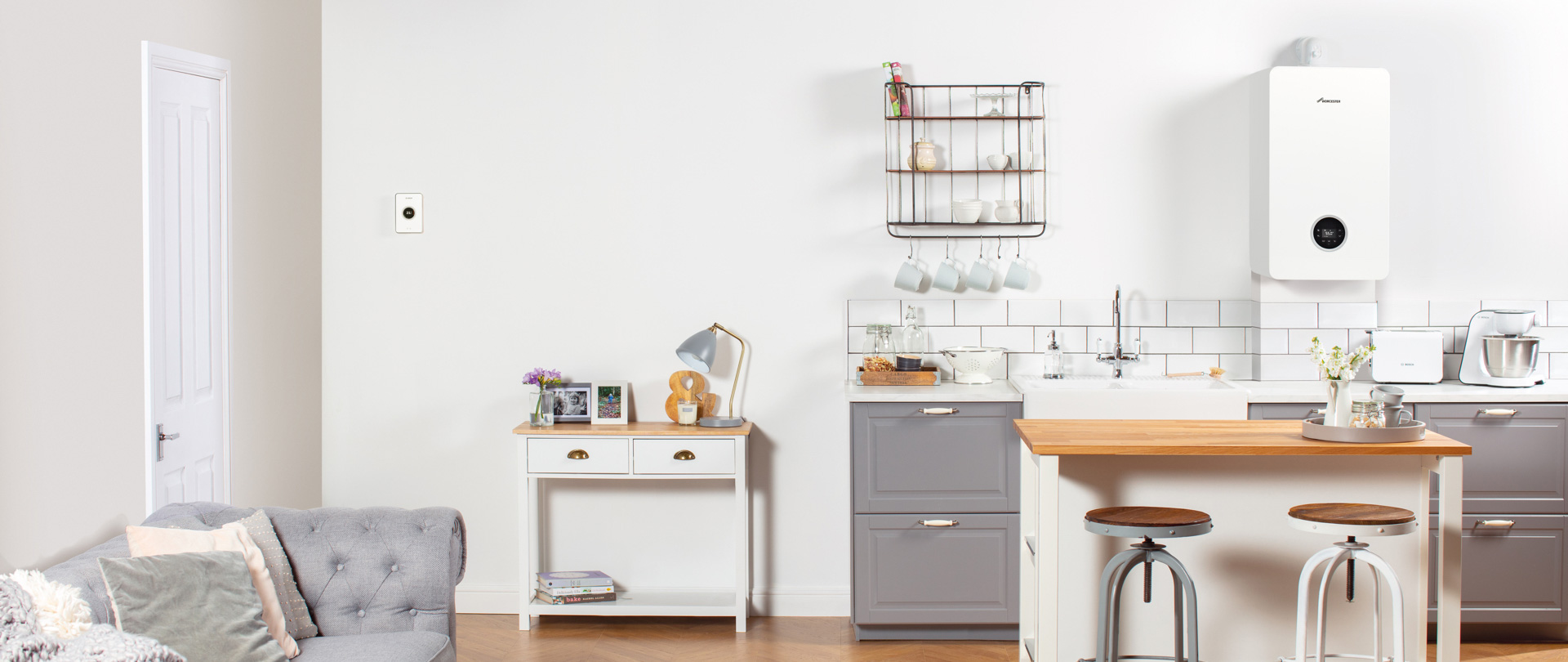 How Much Will A New Boiler Cost?
'How much is it to install a new boiler?' is likely the first question you'll ask when considering a new boiler for your home. If you've had a look around already you'll know just how pricey it can be, but the heating industry has vastly improved over the years, and whilst some people still have boilers from the last millennia, there is now an expanse of highly efficient boilers that come with many other benefits for your bedrooms and your budget.
New boiler prices can vary greatly too; the expense for one household may be cheaper than that of another. For example, the boiler replacement cost for a homeowner with a combi to another of the same type could be less than an individual looking to switch from a regular boiler to a combi, since transferring from a regular means getting rid of the water tank and cylinder etc.
Boiler prices are also dependent on other factors such as the brand, the quality of parts/materials, its size and the complexity of the installation process. For example, if new pipework needs to be installed, that may incur additional costs.
So while we can't give you a fixed figure, these are all things worth taking into account when purchasing a new boiler and having it installed. For a rough guide a new boiler costs £500 - £2,500, depending on the system. A new combi boiler will set you back anywhere between £500 and £2,000, and a conventional boiler will cost between £400 and £1,500, so if it's the cost you're concerned with, regular or system boilers are your best bet. They may be a less efficient boiler but they can be better for certain customers.
Choosing The Right Output For Your Home
You may have noticed that gas boiler specifications include an output measured in kilo Watts (kW). It's a number ranging from 24 to 42 and is used to denote the rate at which power is being used.
The more demand there is for heating and hot water, the higher the output range you will be looking at.
If you choose a system boiler, you will need a lower output model for the same size of property and same number of radiators because hot water will be stored in the cylinder.
Click here to check specifications. Calculate what boiler you need for your house here.
A regular 3-bed home with two showers and more than 10 radiators will need around 32 – 34kW boiler, while a large detached house with more than 15 radiators and 3 bathrooms will have to look at the top range of 42kW.
How Much Does Boiler Installation Cost?
The average cost of boiler installation is between £500-£1,500 in the UK. It is worth noting however that these costs can change significantly based on whether you are buying the same type as your old boiler or you're changing to a new one.
A good rule of thumb when it comes to installation is the more simple the job the cheaper it will be. The most important thing is having a safe pair of hands to install the system. Gas Safety certificates are essential. With Glow Green you can rest assured that you'll have Gas Safe expert engineers on the job. After taking a look at your heating system they'll be able to advise you on the smartest choice for your household too, should you have any doubts.
To give you a representative example of installation costs, we pulled a small table together. The new boiler cost given is only meant as a rough guide and prices will change dependant upon many different factors:

Relatively Green
New boilers have to adhere to strict energy efficiency guidelines. Energy efficiency is measured by dividing the input energy (fuel consumed) by the output energy (heat produced) converted into percentage. This is then graded into a scale of 7 grades ranging from A to G. With A being the most energy efficient and G being the least efficient.
As of 2010 all domestic boiler installations should be at least 88% efficient, which means that only A-rated boilers and B-rated boilers can be installed in private properties.
The energy efficiency can vary a lot even within the same boiler brands, so always check before you buy. Those few percent could make a big difference in the long run.
Renewable Energy Options
No matter how efficient the technology, burning gas to produce heat is not great for the environment because gas is a fossil fuel. Although installing a gas boiler can't be considered an environmentally conscious thing to do in its own right, you can take a step towards renewable options by "plugging" your gas-guzzling boiler into a greener solar water heating system.
It requires a cylinder to be pulled off so it will only work if you have a system or regular boiler, but can be highly beneficial in the long run. Solar heat collectors are used to heat water with ambient energy derived from the sun, meaning a much more energy efficient heating and hot water system
During the summer when the sun's out most days, you can probably get up to 80% of your hot water needs covered! During winter, we're looking at up to 20%. Which doesn't seem like much but it's 20% off your energy bills at the end of the day.
Looking at its off-the-shelf price, thermal solar water collectors are pricey and their buy-back time is rather lengthy so if you want to benefit from this environmentally-friendly technology, you need to act quickly. Although the famous "Green Deal" is pretty much history, there is the Domestic Renewable Heat Incentive (RHI) that you can still benefit from. That is if your thermal installation qualifies. The main benefit of this of course is that it increases your property value and helps reduce CO2 emissions.
A New Boiler As Part Of A Smart Home Heating System
Although new boilers are efficient and cheap to run, there is a way to save even more money on energy bills by embracing new technology. It is early days for the concept of Internet of Things (IoT) and apart from a few interesting smart wearables and smart home devices, there doesn't seem to be that much to choose from. However, hooking up your new boiler with a smart thermostat might be your first step towards a smart home.
As far as the smart thermostats are concerned – Nest is usually the main go-to choice, at least for the UK. The Nest thermostat will replace your old-school manual thermostat and allow you to control heating with ease, whenever and wherever and also save money on bills at the same time.
Although Nest is owned by Google and obviously will be compatible with the Google Home hub, it has also recently opened up to include support for Amazon Echo, which is by far the most popular choice in the UK. A Nest thermostat costs from £160 up but you may be able to get a deal with some installation packages.
Overall, a smart thermostat paired up with an efficient gas boiler is a great way to save money and trial out the new and exciting IoT technology.
How Long Does It Take To Have A New Boiler Installed?
The length of installation will depend on numerous factors too. If your boiler has broken down, we should be able to offer you an urgent installation. Normally, we will need to arrange for a home survey and it may take a couple of days for us to book an installation slot for you dependant on engineer availability in your area.
All in all, it may take around one week from the initial quote to a finished boiler install. As a rough estimate, we've provided timescales for different jobs. Please see the table. If you're looking for information about other boiler installation timescales, please check our oil boiler page. or electric boiler page.
A typical install would include installation of a horizontal flue, Magna Clean, system flush, installation of Wi-Fi controls.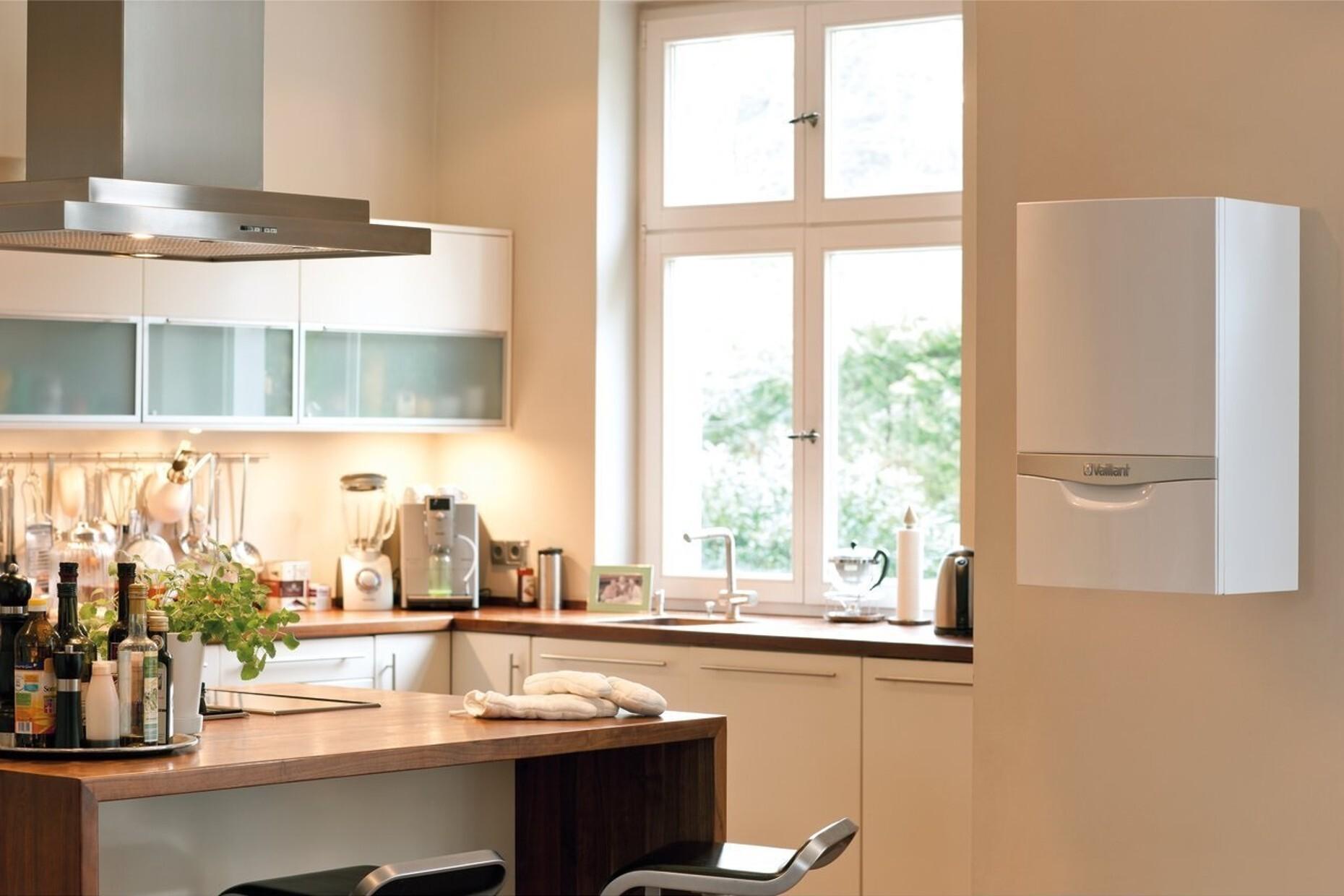 Your Local Boiler Installation Company
Glow Green has recently expanded to cover most of the UK, however at the core we remain true to our philosophy – we are your local boiler installer. Have a look at what we're doing in your local town: