Vaillant Boiler
Vaillant boilers started out as a family owned business almost 140 years ago, Vaillant has gone on to lead the way in the development and manufacture of heating and hot water technology.
Their international reputation is built on creating innovative products and solutions that have revolutionised the heating industry.
From award-winning Vaillant boilers and hot water cylinders to intuitive controls and a host of advanced renewable technologies – all designed to use sustainable energy sources – Vaillant constantly strives to deliver on their promise to 'think ahead'.
If you are considering upgrading your heating system, then it might just be worth checking out the Vaillant range right here. We've a wide selection of gas boilers suited to almost every home, some of which have been awarded Which? Best Buy gas boiler products for 2020.
Just How Good Are Vaillant Boilers?
If you are in the market for a new boiler because your old unit is not working how it used to, or has recently suffered from a bad breakdown, then a Vaillant boiler is definitely one of the top boiler choices. Vaillant are, not quite, but almost the most popular and renowned boiler manufacturers in this country at the moment behind Worcester Bosch, and even in mainland Europe too.
How are Vaillant boilers different from other similar manufacturers? Apart from a high efficiency rating and precision German engineering, the ecoTEC range is built in their RoSPA gold award-winning Derbyshire manufacturing plant. The ecoTEC selection is also awarded a Quiet Mark accreditation by the UK Noise Abatement Society recognising the lower noise impact of Vaillant's heating equipment. Most conventional boilers love making a racket, but with combi boilers from Vaillant you never have to put up with any banging, humming or whooshing while going about your daily life at home.
Vaillant are also renowned for top class combination boilers, offering all the key aspects you would expect from high efficiency boilers and then some. When combi boilers were first introduced onto the scene they were only really capable of supplying smaller homes with not so high demand for hot water. Vaillant combi boilers however are now adapted for use in homes with multiple bathrooms making them ideal for family homes. They also come in a range of outputs and sizes meaning you can find one that's optimal for your needs.
Whats inside your Vaillant Boiler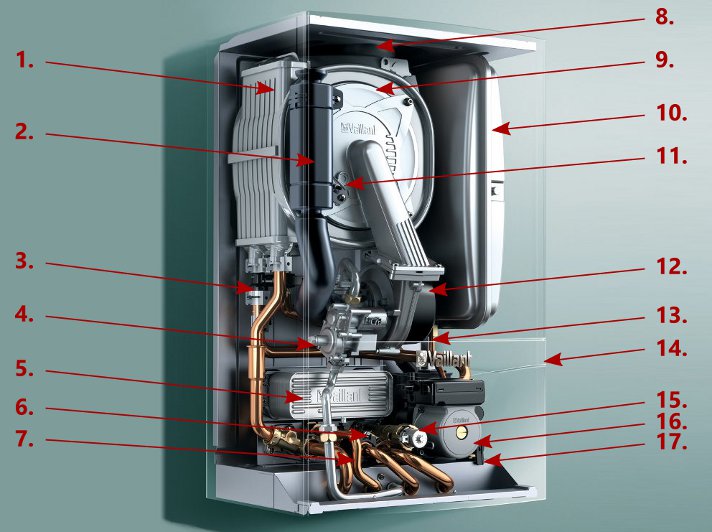 Have you ever wondered what parts are inside your Vaillant boiler? We've prepared an x-ray illustration showing off the main boiler parts taking a typical ecoTec Pro as an example.
Primary heat exchanger
Air intake system
Water pressure sensor
Gas valve
Secondary heat exchanger
Bypass valve
Hot water impeller sensor
Flue connection ring
Thermal module/gas burner
Expansion tank
Gas ignition electrode
Fan
Air vent
Electronics and controls box (under the cover)
Diverter valve with bypass
Pump
Expansion relief valve
How Do Vaillant Boiler Prices Stack Up?
Offering a wide range of boilers, Vaillant's combi boilers start at around £850 for their ecoFIT Pure 25kW Combi, up to their powerful ecoTEC Exclusive 43kW combi at around £1,700. If you want to shop from the entire choice of boilers, including system and open vent boilers, then you can get one for as little as £650, all the way up to £2400.
So if you need a boiler on a budget or you own a larger property and desire a powerful and high end boiler, chances are you can get what you are looking for with Vaillant.
The cost will depend on the model of course and does not include installation. Luckily with Glow Green you get Gas Safe registered engineers and finance options to give you peace of mind anyway. Another advantage of buying a Vaillant boiler through Glow Green is that you can pay short monthly amounts anyways and, with up to 10 years warranty, you can essentially not have to worry about your boiler for a decade.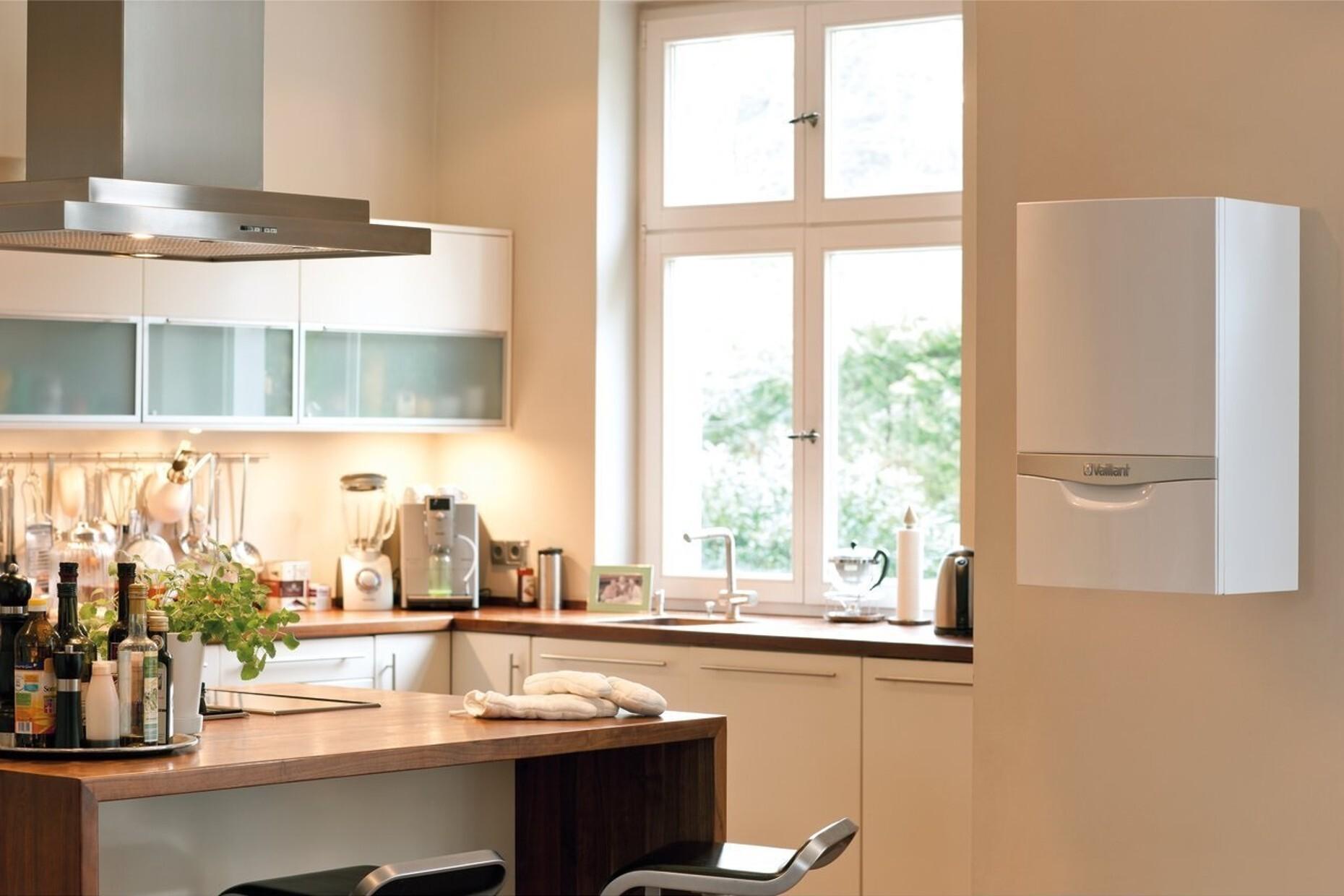 Disadvantages Of A Vaillant Boiler
Whilst all of Vaillant's combi boiler range are ErP A-rated for energy efficiency, it's worth looking at the finer details. Some of Vaillant's combi boilers, despite having that A rating, are at the bottom end of that spectrum racking up 89.3% efficiency. This is still impressive but when you compare that to some other big brand combi boilers, that can be up to 98%, it can make a big difference in the long run. Your boiler accounts for between 55-60% of the amount you spend on energy every single year, so this is something you may want to consider if your household has a high demand for hot water and heating.
Size can also be another slight disadvantage over competitors. If you're looking to go as small as possible to maximise space in your household, the Vaillant combi boiler is generally a tad bigger than other combi boilers by Worcester. It depends on where you intend to put your boiler more than anything.
Vaillant is also usually slightly more expensive than its competitors, however this isn't too much to worry about since you can pay in small monthly amounts and you are paying for quality and robust products so really they are good value boilers.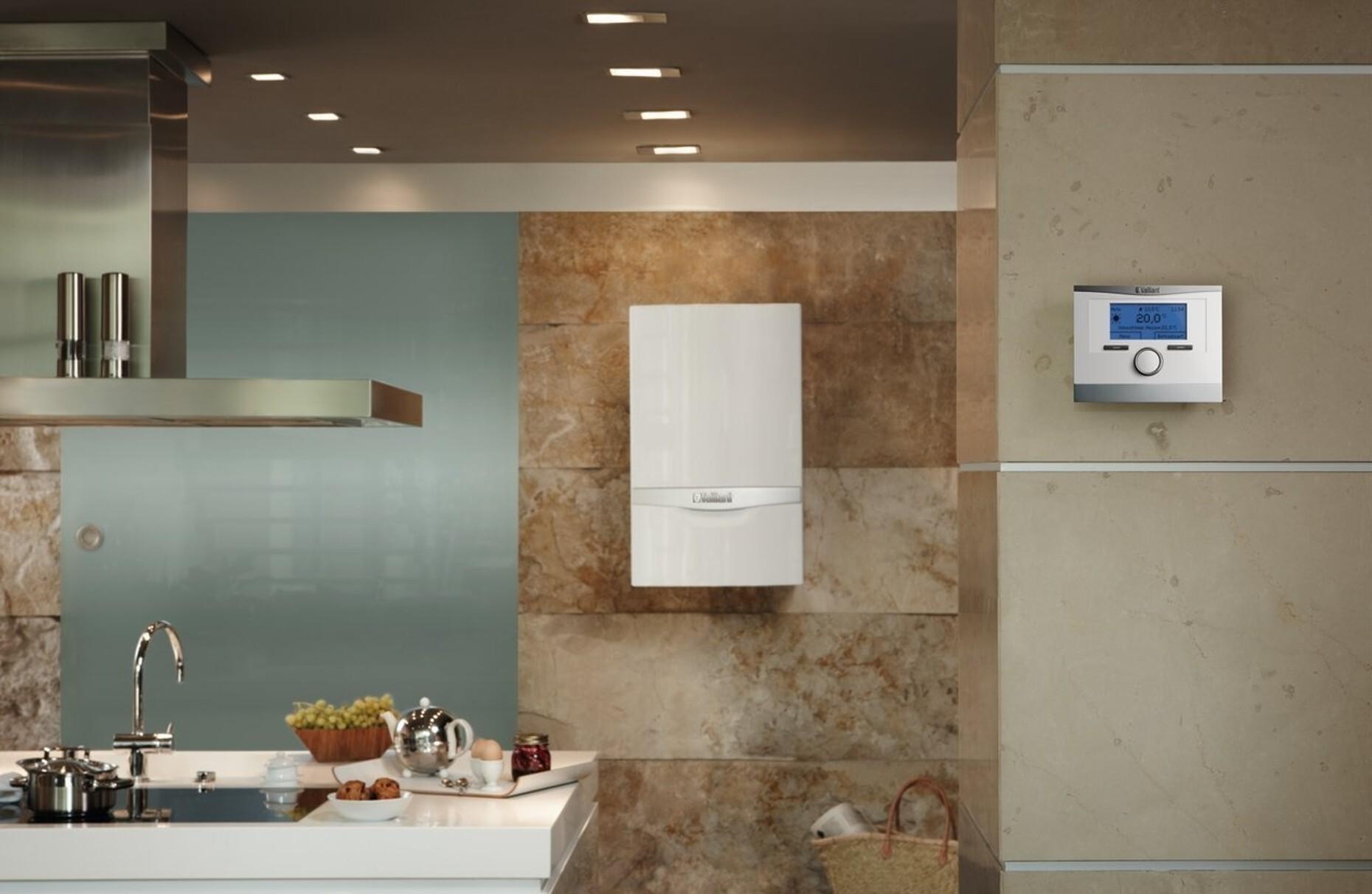 The EcoTec Range
Vaillant is a boiler brand steeped in history and traditions. The company was founded in 1874 in Germany and started making the world's first gas-fired water boiler in 1894. Ever since that time they have been at the forefront of domestic heating development currently exploring renewable technologies such as ground source heat pumps and air to water systems alongside their traditional line of business.
The best-selling Vaillant ecoTec pro boiler range consists of 22 different types of gas boiler with outputs from 12kW to 38kW. Both boiler ranges are fitted with the highly rated Stainless Steel Giovanni Heat exchanger which is very reliable but more expensive than an aluminium and/or silicone based heat exchanger. Both also come with built in two-stage frost protection for even better reliability. And of course, they aren't just any ordinary heating system, they are Which? Best Buy 2020 heating products.
The Ecotec Plus products are the more expensive higher end boilers. Consequently, there are the following differences:
The EcoTEC Plus has more complicated software and more settings options, the details of which would only ever be tapped into by a commissioning or service engineer. The Plus range has a built in filling loop which is especially useful when trying to optimise space in a kitchen etc. The Vaillant Pro however requires an external loop to be fitted. The EcoTEC Plus hot water flow rate is slightly higher. The Plus also has more models, including slightly larger ones more suited to houses with two bathrooms. Below you can find more specific details on the different Vaillant EcoTEC boilers, and hopefully gain the understanding you need to make a decision on buying a new boiler for your home.
Vaillant EcoTEC Plus
A complete system solution, the Vaillant EcoTEC Plus 832 is a popular choice for those with small to mid-sized homes. It's capable of supplying enough hot water for homes with multiple bathrooms with a single shower installed. The Vaillant EcoTEC Plus 832 offers central heating outputs of 24kW and hot water output of 30kW, enough for small to mid-sized properties.
The EcoTEC Plus combi offers great hot water performance using Vaillants AquaComfort system to provide instantaneous hot water at a consistent temperature, and is also compatible with vSMART heating control. It's a reasonably compact boiler however not quite as much as Worcester Bosch's most compact boiler, so if shaving off them extra centimetres is a big factor for you, it's worth checking their selection first. If your concern is efficiency however, the Plus is also economical to run with 94% efficiency, meaning you're only losing 6p of gas for every £1 spent which is pretty miraculous considering the fuel type.
With a central heating output of 31kW, the Vaillant EcoTEC Plus 835 will comfortably heat a large 4-bedroom home with 10 – 13 radiators. As for the hot water output, it provides 35kW at a very decent flow rate of 14.3 litres per minute to your taps meaning the boiler performance overall is quality. It's great if you have two bathrooms, and can easily run two showers and a bath unlike most combi's. However it's worth having one of our boiler engineers check the water pressure at the mains first to ensure your property will reap the benefits and will be best suited to the Vaillant EcoTEC Plus combi.
The Vaillant EcoTEC Plus combi is perhaps the best choice for medium to small properties as it is super efficient and easy to use. It's useful to most households. The Vaillant EcoTEC Plus boiler range also comes with a step by step wizard to help you set up the boiler with your phone.
Vaillant EcoTEC Pro
The Vaillant EcoTEC Pro combi boiler range was made to keep things simple for you. The bright and easy-to-use display means operating the boiler is a piece of cake. And like, all models, it's Quiet Mark approved. The ecoTEC pro is super smart on the inside too. It can adapt itself to give you only the heating you require, lowering your fuel bills. Premium parts such as the stainless-steel heat exchanger keep everything running smoothly and reliably.
The combi boiler range features 24kW, 28kW and 30kW models, making this boiler perfect for homes with smaller heating and hot water requirements. The Vaillant EcoTEC Pro combi also comes with compact dimensions (720mmx440mmx335mm to be precise) for flexible siting options, little to no noise and has a high efficiency rating. Removable side panels and a push-fit flue system means improved accessibility, ease of installation and greater installation flexibility too, compared with regular boilers. It's lack of noise and controls give you maximum comfort for your home.
The best from the EcoTEC Pro scope? The Vaillant EcoTEC Pro 28 is the most popular among the three featuring a fully modulating low NOx burner and fan – for improved energy efficiency. It comes with easy to use and intelligent controls and accessories and it's wide modulation range ensures low energy consumption at all times. proving the Vaillant EcoTEC Pro 28 is a great choice for most homes.
Below you can find the key data on the different Vaillant EcoTEC Pro boilers:
| | EcoTEC Pro 24 | EcoTEC Pro 28 | EcoTEC Pro 30 |
| --- | --- | --- | --- |
| Max heat output for water generation: | 23.4KW | 27.2KW | 30KW |
| ErP efficiency: | 94% | 94% | 94% |
| Nominal heat output range at 80/60˚C (Non condensing mode): | 5.4 - 23.5 | 5.4 - 24.1 | 6.2 - 24.4 |
| Nominal heat output range at 50/30˚C (Condensing mode): | 5.9 - 24.8KW | 6.9 - 25.9KW | 9 - 25.7KW |
The Vaillant EcoFIT pure selection is also worth a mention, since they are related products and it have great reviews , as well as being featured on our website.
Vaillant EcoFIT Pure
If you're searching for a gas condensing combination boiler with high performance for your home, the ecoFIT Pure Combi boiler selection by Vaillant is one of the best in the business. Designed to suit almost any property and lifestyle, this efficient boiler offers low energy consumption and is small enough to fit inside a standard kitchen cupboard. It's unbelievably quiet and compatible with smart heating control to enable you to control everything from your smartphone.
You'll get a great range of controls with this one, such as a reset button, system pressure gauge and central heating and hot water temperature control switches. Because this boiler comes in three heat outputs, it's also ideal for medium and large properties with a single bathroom.
To determine if a EcoFIT Pure combi is the right type of boiler for your home, please consult a Gas Safe registered engineer at Glow Green. In addition to telling you the right boiler type, we will be able to help you work out which output is capable of meeting your heating and hot water needs.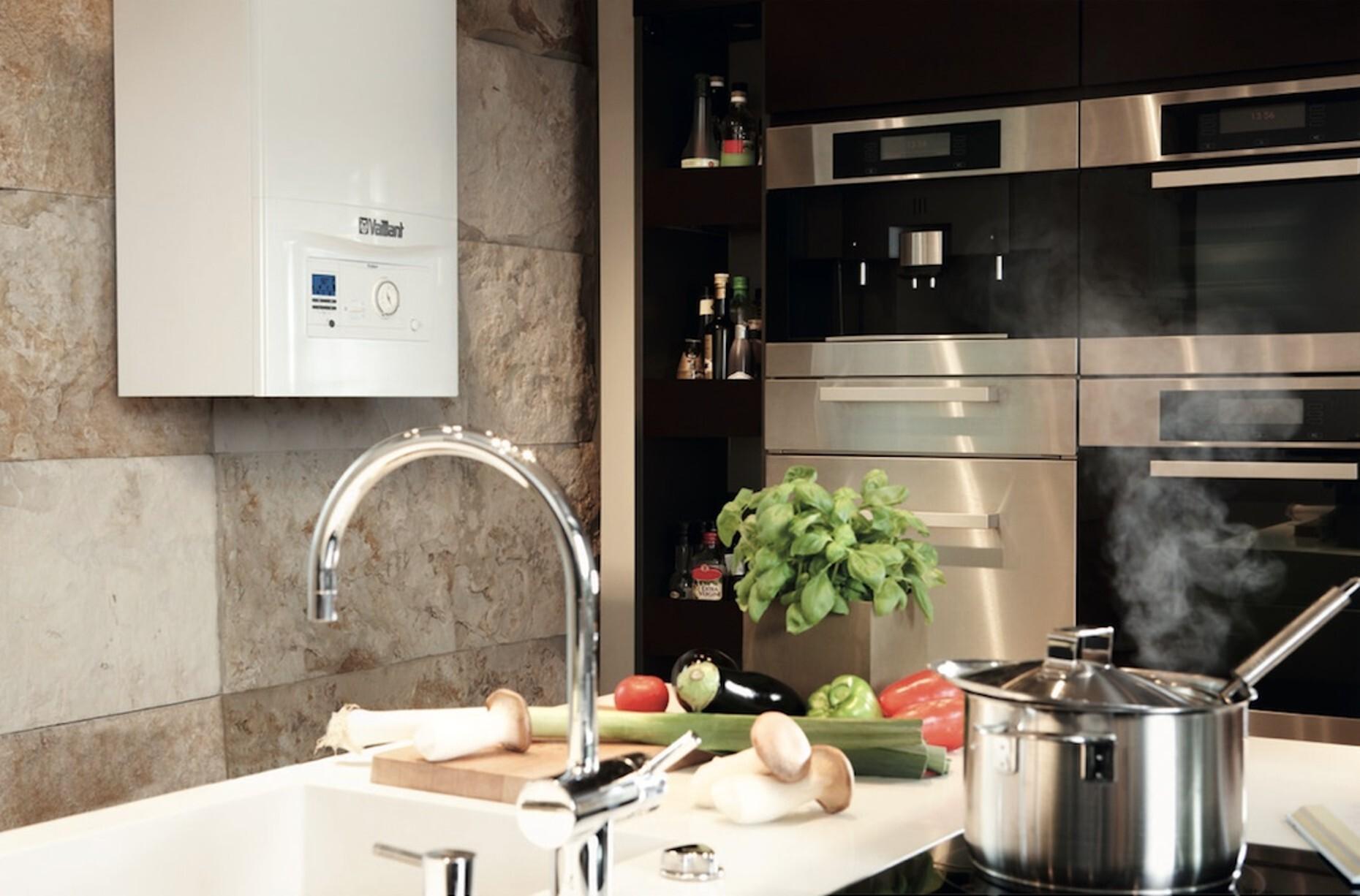 Vaillant Boilers Facts & Figures
Vaillant represents 8 brands in 60 countries. Now the family includes following brands: Vaillant, Saunier Duval, AWB, Bulex, DemirDokum, Glowworm, Hermann and Protherm
The company was founded in 1874.
100%... the company still remains fully owned by the founding family
The first company to produce a hybrid heat pump system incorporating a heat pump and boiler technology
In 1967 Vaillant disrupts the heating industry by creating the Combi-Geyser VCW 20 boiler which combines hot water and heating in a single appliance
The company claims to have invented central heating in 1924 by enabling several radiators to be connected to one boiler
The company started out as a pump manufacturer and added bathroom water heater 20 years after it was founded
What's with the bunny? The distinctive company trademark was inspired by an Easter card depicting an Easter bunny emerging from an egg. The initial logo has underwent several redesigns but the general idea remains intact to this very day
Environmental friendliness is high on agenda: they are following their S.E.E.D.S philosophy which stands for Sustainability in Environment, Employees, Development & Products and Society
Why Choose Glow Green?
VAILLANT ADVANCE INSTALLERHave your boiler installed by a Vaillant Advance Installer when you choose Glow Green.
INTEREST FREE CREDIT2 years interest free credit on Glow Green payment plans for boiler installations.
UNBEATABLE WARRANTYOur Vaillant boilers come with up to a 12 year warranty as opposed to the standard 5 year warranty.
MONTHLY PAYMENTSFrom only £9.99 per month for a new Vaillant A-Rated energy efficient boiler* Call the boiler experts now on 0330 113 9488 for a free no-obligation quotation. We offer 2 years 0% finance and all our boilers come with a 10 year guarantee.
EXPERT CUSTOMER SERVICEWe ensure that we give you the best experience on our website when it comes to searching for a boiler that's right for you. Just call our team anytime or browse the website to find out what you need to know before buying.
Vaillant Boiler Range
0010040018 ecoFIT pure 825 – Restart Pack (Hor)
0010040019 ecoFIT pure 830 – Restart Pack (Hor)
0010040020 ecoFIT pure 835 – Restart Pack (Hor)
0010040021 ecoFIT pure 825 – Restart Pack (Ver)
0010040022 ecoFIT pure 830 – Restart Pack (Ver)
0010040023 ecoFIT pure 835 – Restart Pack (Ver)
0010017064 ecoTEC exclusive 835 with Green iQ
0010017065 ecoTEC exclusive 843 with Green iQ
0010017063 ecoTEC exclusive 627 with Green iQ
0010021823 ecoTEC plus 825
0010021824 ecoTEC plus 832
0010021825 ecoTEC plus 832 LPG
0010021822 ecoTEC plus 835
0010021826 ecoTEC plus 838
0010021827 ecoTEC plus 938
0010021828 ecoTEC plus 612
0010021829 ecoTEC plus 615
0010021830 ecoTEC plus 618
0010021831 ecoTEC plus 618 LPG
0010021832 ecoTEC plus 624
0010021833 ecoTEC plus 630
0010021834 ecoTEC plus 630 LPG
0010021835 ecoTEC plus 637
0010021220 ecoTEC plus 412
0010021221 ecoTEC plus 415
0010021222 ecoTEC plus 418
0010021223 ecoTEC plus 424
0020231355 ecoTEC plus 424 LPG Pack
0010021224 ecoTEC plus 430
0010015674 ecoTEC plus 435
0010021836 ecoTEC pro 24
0010021837 ecoTEC pro 28
0010021838 ecoTEC pro 28 LPG
0010016538 ecoTEC pro 30
0010020389 ecoFIT pure 825
0010020390 ecoFIT pure 830
0010020391 ecoFIT pure 835
0010020400 ecoFIT pure 412
0010020401 ecoFIT pure 415
0010020402 ecoFIT pure 418
0010020403 ecoFIT pure 425
0010020404 ecoFIT pure 430
0010020405 ecoFIT pure 435
0010020395 ecoFIT pure 612
0010020396 ecoFIT pure 615
0010020397 ecoFIT pure 618
0010020398 ecoFIT pure 625
0010020399 ecoFIT pure 630
0010020392 ecoFIT sustain 825
0010020393 ecoFIT sustain 830
0010020394 ecoFIT sustain 835
0010019980 ecoTEC sustain 24
0010019981 ecoTEC sustain 28
0010019982 ecoTEC sustain 34
Glow Green Limited is authorized and regulated in the UK by the Financial Conduct Authority RN: 692433 for credit broking activities. Finance options are provided by a panel of lenders. Terms and conditions apply. Glow Green Limited acts as a credit broker and is not a lender. Glow Green receives commission from the Finance providers. Any credit is subject to application, financial circumstances and borrowing history. Registered in England & Wales. Company Reg No: 07530174 and VAT No: 135032748. Glow Green Limited, Avalon, 5th Floor, 26-32 Oxford road, Bournemouth, BH8 8EZ.

*(9.9% APR Offer) Representative Example: Cash Price £2,100. Deposit Payable £1,327. Total Amount of Credit £773. Total Interest £425.80. Total Amount Repayable £2,525.80 Repayable by 120 monthly instalments of £9.99. Representative 9.9% APR (fixed). Rate of Interest 9.9% a year (fixed). Duration of Agreement 120 months. The approval of your application depends on your financial circumstances and borrowing history.

(0% APR Offer) Representative Example: Cash Price £2,100. Deposit Payable £0. Total Amount of Credit £2,100. Total Interest £0. Total Amount Repayable £2,100 Repayable by 24 monthly instalments of £87.50 Representative 0.00% APR (fixed). Rate of Interest 0.00% a year (fixed). Duration of Agreement 24 months. The approval of your application depends on your financial circumstances and borrowing history.

** The 12 year warranty is only available for customers who have a Worcester Bosch or Vaillant boiler supplied and fitted by Glow Green Ltd and is subject to a Glow Care 100 service contract for the 12 year period.

††Estimated figures based on installing a new A-rated condensing boiler with a programmer, room thermostat and thermostatic radiator controls (TRVs) in a gas-heated detached home from an older boiler without controls. Savings will vary depending on the size and thermal performance of your home. Correct as at May 2019. Source: Energy Saving Trust.